Jin Maolian Technology Co., Ltd. (hereinafter referred to as "Company" or "Maolian") was established in March 2010 with a registered capital of 833 million yuan. It is a high-tech private company focusing on the research and development and production of new cobalt, copper and nickel materials. enterprise. In 2016, the company relocated to Nangang Industrial Zone, Tianjin, and built a green new energy material production base in Nangang. After all projects are put into production, they will have an annual output of 12,000 cobalt products, 25,000 tons of copper products, and 16,000 tons of nickel products, with an annual output value of nearly 10 billion yuan. , becoming the largest cobalt new material supplier in northern China, with a global cobalt market share of about 8%.
一、Introduction of the company's technical capabilities
The company and its subsidiaries have accumulated rich practical production experience since 2005. The wholly-owned subsidiary Zhejiang Yinglian Technology Co., Ltd. won the second prize of Jinhua Science and Technology Progress in 2007 for the project of using copper-cobalt alloy to produce cobalt products. In 2008, it was supported by the National Science and Technology Small and Medium Enterprise Innovation Fund and won the third prize of Zhejiang Science and Technology Progress in 2009. , In 2011, it won the top ten contracted projects of the Jinhua Municipal People's Government Engineering Association. In 2012, the company won the title of "Top 30 Little Giants of Science and Technology in Tianjin Development Zone". In 2013, it was recognized as Tianjin Enterprise Technology Center and National High-tech Enterprise. It has obtained more than 20 patents. In 2016, the company took the opportunity of relocating to the new factory to apply the production experience and technological progress accumulated for many years in the new factory, and successively applied more than 50 research and innovation achievements of various types, with high metal recovery rate, low comprehensive energy consumption and processing cost. At the same time, the extension of the industrial chain and the diversification of products have been realized. In 2017, the company was authorized by Central South University as an "Industry-University-Research Cooperation Unit".
二、Resource Advantage
The company acquired 100% equity of ENRC (BVI) LIMITED Company in 2014, thus holding 90% equity of Zambia Nkana Alloy Smelting Company Limited (the remaining 10% equity is held by ZCCM, a state-owned company in Zambia). NKANA is the owner of the NKANA slag pile, which has a total volume of about 17 million tons, with 1.23% copper content reaching 200,000 tons and 0.89% cobalt content reaching 150,000 tons. The company has now started the establishment of a smelter in Zambia. It is expected to be put into operation in early 2019, with an annual processing capacity of 1 million tons of slag, production of 10,000 tons of copper and 6,000 gold tons of crude cobalt hydroxide products for domestic companies to produce and use, which alleviates the problem to a certain extent. The scarcity of cobalt resources in my country ensures the stability of the supply of cobalt as my country's strategic reserve metal.
三、Introduction to environmental protection
All the company's waste residues are recycled as products, including precious metal intermediates, iron powder (for iron making), etc. The company's supporting MVR sewage treatment system can treat 3,580 cubic meters of wastewater per day. All wastewater is treated by the MVR system to recover ammonia (production and reuse), sodium sulfate (external sales), ammonium chloride (external sales), chloride Sodium (for external sales) and condensate (for production and reuse). It truly realizes zero discharge of waste water and slag.
Maolian Technology and Nankai University have developed in-depth cooperation and successfully applied for the "National Water Pollution Control and Treatment Science and Technology Major Demonstration Project" in 2018.
四、Location introduction
Our new factory is located near the Tianjin port, which is convenient for importing raw materials and exporting products; Tianjin and its surrounding industrial bases are perfect, and our company can easily purchase auxiliary materials such as acid and alkali for production at low cost; many downstream battery factories are located here, our company Products can be sold nearby.
五、Talent introduction
After more than ten years of development, the company has a team of employees and cadres with strong sense of responsibility and rich production experience. There are more than 130 middle and senior management and production technicians, most of whom are professionals with decades of work experience.
Recruitment majors and requirements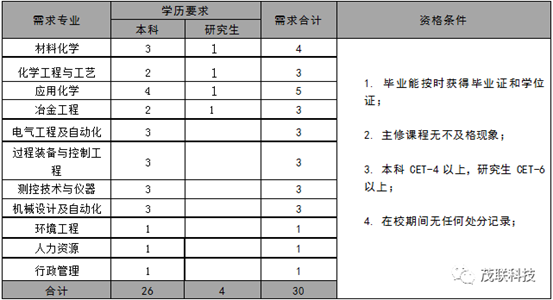 Welfare treatment
1. Competitive salary level: basic salary + performance bonus + incentive bonus;
2. Vacation system: such as marriage leave, maternity leave, bereavement leave, paid annual leave and other national statutory holidays;
3. Welfare system: five insurances and one housing fund, holiday gifts, communication subsidies, seniority wages, housing subsidies, skill allowances, etc.;
4. Free board and lodging: 300 yuan per month food subsidy (can be consumed in the company restaurant or shop), with room subsidy, undergraduate and graduate students are provided with 3-person rooms (separate bathroom, air conditioning, heating, etc.).
5. Policies and benefits: non-local students assist in applying for Tianjin household registration and apply for government talent subsidies.
6. Promotion system: technical channel technician-intern-engineer-chief engineer
Management Channel Technician-Team Leader-Workshop Director-Assistant to Factory Manager

Relevant salary and benefits are subject to the signing of the labor contract
Ways of registration
Online resume submission: maolianhr@tjmaolian.com Students who want to apply can submit their resume online.
Students are welcome to submit their resumes or call for consultation.
Contact: Manager Zhang 18522691261 022-59851324
Manager Li 18222777251
Website: www.tjmaolian.com